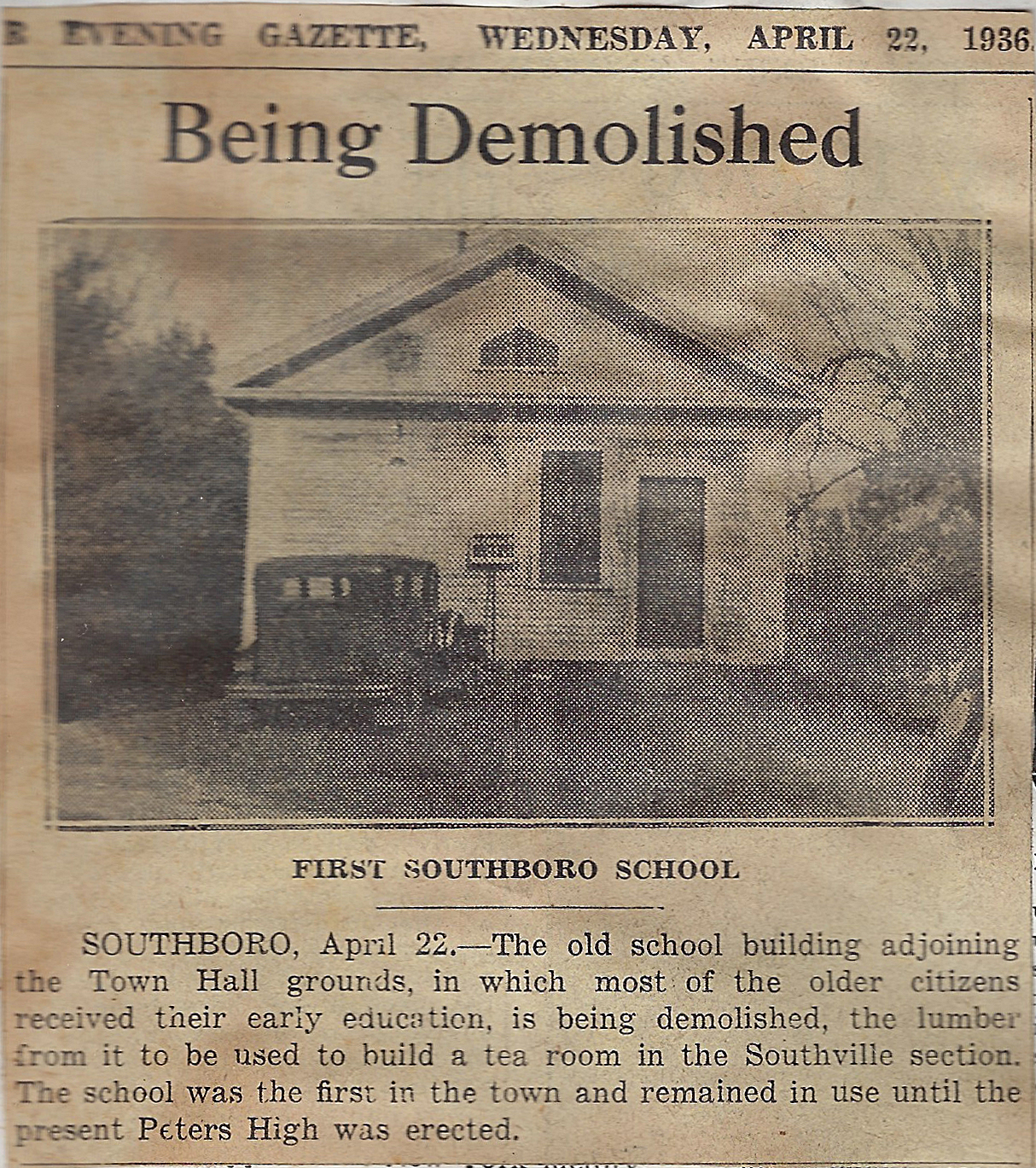 Dear Friends,
For the first posting of 2019, I thought it would be fun to share this newspaper clipping from a scrapbook once owned by Mrs. Arlene Morrison, who ran the general store in the Sealey Block on Main Street across from the old train station. (Older residents will remember the Gulf station on the corner of Main and Newton street that replaced the block. Both buildings are now gone.)
As you can see, the article reveals that the Flagg school, which is now home to the Southborough Historical Society, and where I now sit writing this, was scheduled to be torn down for timber— a fate suffered by all the other clapboard one-room school houses in town about the same time. What saved the building is unclear. But for whatever reason, calmer minds (or more than likely, continued economic downturn) saved the structure for us to enjoy today.
Which brings me to my main point. Every time we allow pieces of our historic fabric to be destroyed, it has a ripple effect of unintended consequences. In this case, a precious part of our educational history would have been lost forever, and the Museum would be homeless.  Think about the other missing buildings mentioned here, and what they might have been: the Sealey block converted into retail and living space on Main Street; the old train station made into a great pub; the Cordaville mills as condo and restaurant space. Loss is just that, loss, especially when these wonderful old buildings are torn down just to sit as vacant lots or parking spaces.
Finally, a quick reminder to those of you who haven't sent in order forms for our new book, Lost Southborough or haven't mailed your year-end contribution to the Society.  Please do! Or even easier, donate online! Contributions so far are lagging last year's tally and we've way too much programmed this year to slow down now!
Happy New Year Everyone!