Dear Friends
It is with a very real sadness that I share the news of the death of Eleanor Hamel, a long-time best friend to the Southborough Historical Society, at age 98. I'll let you read her obituary here, but I just wanted to share a few personal memories with you.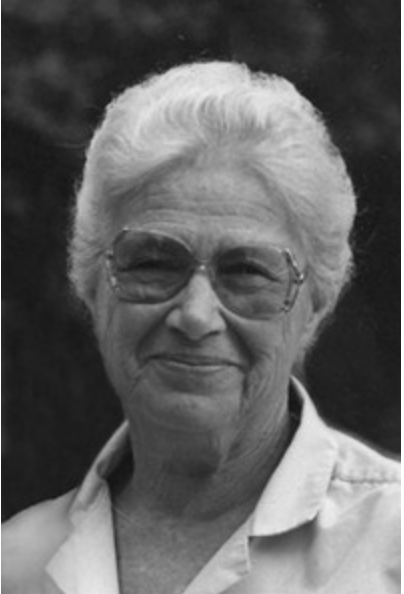 I  met Eleanor back in the early 90s during my first stint on the Historical Commission. I had gotten involved because one of our dismal cast of local developers, always ready to demolish, was planning to tear down the hugely historic Greek Revival house of Mary Finn on Route 9 to build a Wendy's. (That's Mary Finn of Mary Finn School, btw, and the current Wendy's speaks to the result.) As usual, I was full of (then youthful) outraged indignation, and as usual, wise and calm Eleanor, who was an 11th generation Soutborough resident, saw the bigger picture. As she pointed out to me, while we'd lost the skirmish, we could still win the war, and with her guidance we raised enough public awareness to make sure there would be no more fast food restaurants blighting the Southborough streetscape. When I would get discouraged, and not attend meetings for a while, she would call me up with the gentle voice and say, "Now Michael, I know you are busy, but we need your energy and enthusiasm. Please try to come." And I did, and working together we got the Town to spend 25K to do the 2001 Historical Properties Survey. That was the watershed. Many years later it led to the Demolition Delay By-Law, the preservation of 85 Main Street, and the Historic Adaptive Reuse By-law (which saved Fayville Hall, among others). By then Eleanor had long retired from the Historical Commission, but her imprint echoes through all these achievements.
I'm unclear if Eleanor was one of the founding members of the Historical Society, but if not, she was close. She worked assiduously at the Museum for decades, cataloguing the collections, urging people to contribute, sharing her vast personal knowledge of Southborough, or helping out in any way she could. I wasn't active in the Society during this period, but it's not hard to see hints of Eleanor around every corner. Just pick up a record, look at an object, read the caption on a photo. Her distinctive handwriting, which I came to know so well on the Commission, was, and still is, everywhere. Every time I see it, I smile. It's like meeting a trusted old friend. If that blocky script states: "This the Brewer farm and the girls on ladders are picking cherries after school," then you can rest assured that's exactly what you're looking at, for she was there, or knew someone who was.
Across from my desk at the museum there is a wonderful mid-19th century wooden box with original paper labels advertising Boston Baked Beans. The shipping address is the now long-destroyed Wright's Store in Fayville. Inside on the cover there is a taped note that simply reads; "This box has been in our home as long as I can remember. E.H."
Thank you, dear friend, for sharing your memories with us, and for becoming a huge part of ours. You will be sorely missed.
Godspeed.