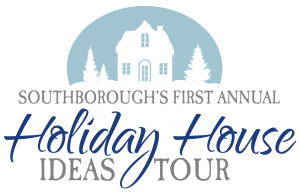 In support of the Southborough Historical Society
Saturday, November 30, 2019
10:00 AM – 4:00 PM
This year, the Southborough Historical Society is partnering with Heather McDougall, owner of local shop At Number 10, 3 East Main Street, Southborough, to kick off the holiday season in Southborough.
This self-guided  tour will feature beautifully decorated homes, along with a couple of special additional stops, to inspire your holiday decorating. One of the stops will be the recently completed chapel at the Burnett House!  Plus, there will be live demonstrations throughout the day of essential holiday skills such as making your own deluxe ribbons for pennies, and the Museum will be decorated and serving refreshments.
Make sure to follow the House Tour page @southboroughhousetour to keep up with the planning and houses you will have a chance to tour.
TICKETS ARE SOLD OUT! The official PASSBOOK is now available At Number 10 or at the Museum the day of the event. This will give you descriptions of all the stops on the tour and your options for the day's activities.
Sponsors: