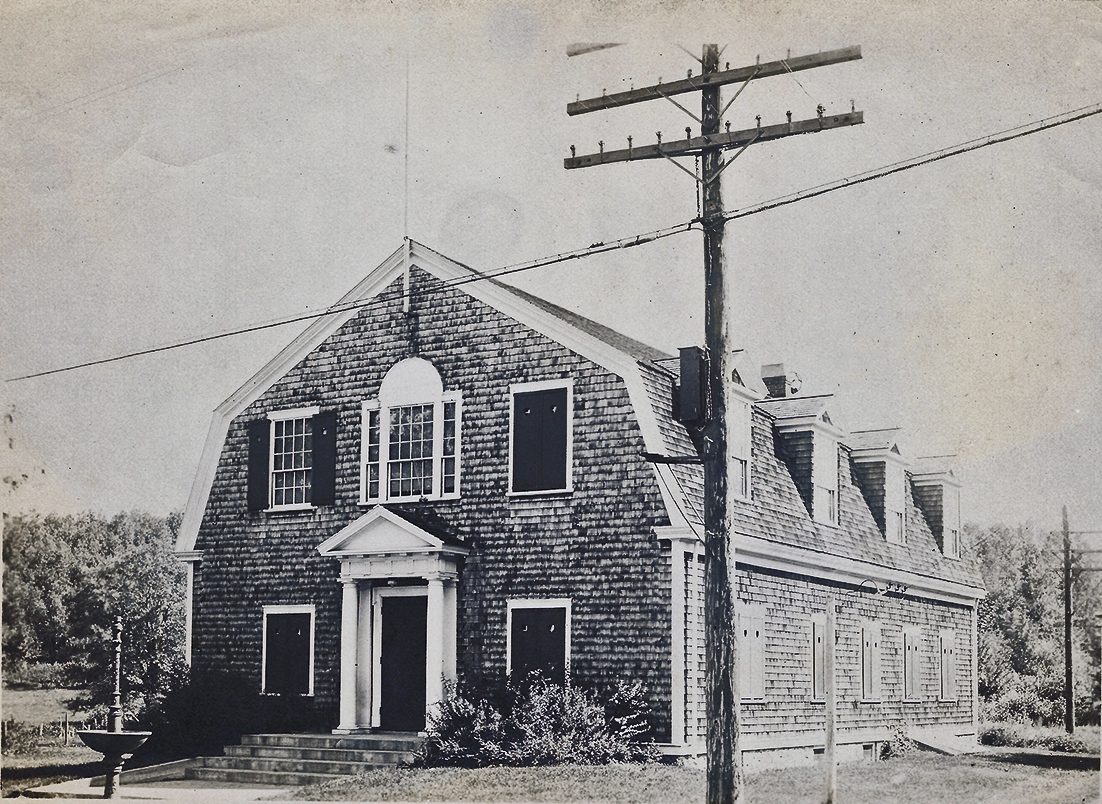 Here's a new discovery, fresh from our photo files: a previously unpublished picture of Fayville Village Hall. This marvelous structure, the only example of the popular Dutch Colonial Revival style in Southborough, was built in 1911 to give the population of Fayville a venue for meetings, dances, lectures and other social functions. In an era when it took a half-hour to saddle up a horse to ride to the center of Southborough, this was a big deal. The hall proved a popular  gathering spot for generations, but fell into gradual disuse as social norms changed . Underutilized, the building was tagged many times by the selectmen for potential sale. However, the community resisted, fearful that the building would be town down.  The 2016 Town Meeting finally granted permission to the selectmen to sell the hall, but only after the Historical Commission demanded and won hard-fought promises from all concerned that the building would only be sold to a buyer interested in adaptive reuse, and that the exterior facade would be preserved and restored as part of the renovation process. Currently, the Town is seeking requests for redevelopment proposals. One likely outcome is several units of senior housing.
In the picture above you can see the building in all its glory, sometime in the 1930s. Note the entrance portal with its beautiful columns and pediment (only a portion of which survives today and is to be restored) and the distinctive heart-shaped cutouts in the shutters (also currently largely missing) — a deliberate look-back to Colonial-era designs. In the days before air conditioning, these shutters provided critical cooling by blocking out intense sunlight, while the small heart-shaped cut-outs insured that even when closed the rooms weren't totally dark and unventilated. Notice too the elaborate cast-iron horse trough out front — could it be that this long-removed masterpiece  still lingers in the hall basement or some other Town storage facility? Stranger things have happened. Regardless, the active preservation efforts by the Southborough Historical Commission and the Society regarding the Fayville Village Hall  showcase the best of what adaptive reuse is all about,  and clearly demonstrate the value that our current residents place on preserving the  architectural fabric of historic Southborough.
Of course it's never over til it's over, so rest assured we will continue to monitor Fayville Hall's progress, and report back as the next stage in the life of this remarkable building commences.